Need help? For assistance accessing digital events at performance time, email stages@gmu.edu.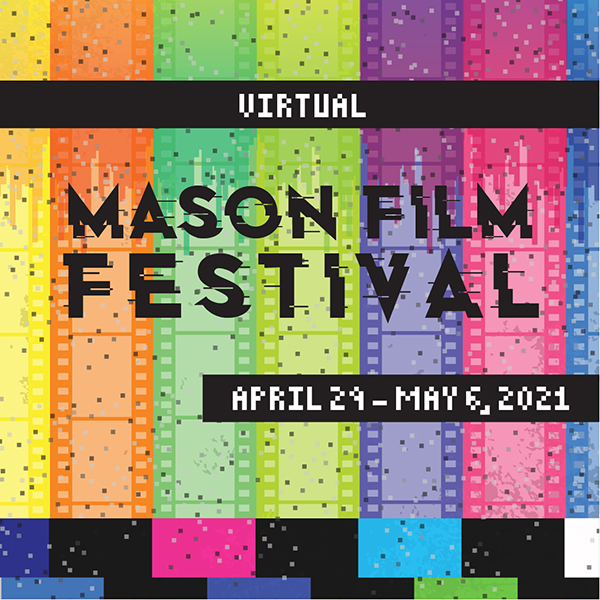 Virtual Mason Film Festival 2021
Thursday, Apr 29, 2021 9:00am
Friday, Apr 30, 2021 9:00am
Saturday, May 01, 2021 9:00am
Sunday, May 02, 2021 9:00am
Monday, May 03, 2021 9:00am
Tuesday, May 04, 2021 9:00am
Wednesday, May 05, 2021 9:00am
Thursday, May 06, 2021 9:00am

Virtual Event
This year's Mason Film Festival will take place virtually, featuring work from Film at Mason students created during the Spring 2021 semester. There will be an array of short films as well as pitches and panel discussions with filmmakers.
Watch the Films from April 29 - May 6, 2021
Participants have a week to watch films and presentations from advanced directing students in fiction, beginning video production students, graduating seniors, and more.
Vote for the 2021 Mason Film Festival Audience Award - pick your favorite film.
Participate in Q&As - May 1, 2021
Live discussions with our student filmmakers and faculty will take place on Saturday, May 1st. The schedule below is subject to change:
11:00 AM – FAVS 255 Video Production with Prof. Barger
11:20 AM – FAVS 300 Global Horror with Prof. Alkassim and Prof. Santiago
11:40 AM – FAVS 365 Documentary Directing + 260 Editing with Prof. Wingert-Jabi
10-minute break
12:10 PM – FAVS 375 Fiction Film Directing with Prof. Steger
12:30 PM – FAVS 399 Afrofuturism with Prof. Jusu
12:50 PM - FAVS 496 Screenwriting Capstone with Prof. Britt
1:10 PM – FAVS 497 - Editing Capstone with Prof Kraus
1:30 PM - FAVS 497 - Producing Capstone with Prof Thrasher
10-minute break
2 PM – FAVS 498 Pitches with Prof. Jusu and Jury
2:20 PM - FAVS 499 Senior Projects with Profs. Steger and Jusu
2:50 PM - Awards Celebration
3:10 PM – End